Welcome to Omni Running!
 As an Omni Runner, you will get an email each time I publish a new post.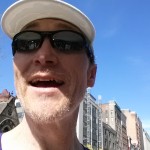 I typically post on Monday and Friday.
The "About" page has details on me and Omni Running.
Omni Running Shop features my innovative race medal display frames and "My First 5K" medals.
If you have a medal that you are particularly proud of, we can create a frame for you.
We have a great medal for first time 5K runners that can be a great fund-raiser for 5K race directors.
Run well my friend, and thanks for joining the run!
Andy