My First 5K Medal
Every runner wants to bring home a medal from their first 5K race.
Now you can get a medal for your first time runner.
Most 5K races award medals for the top three men and women finishers. 
Many 5K races also award medals to the top three finishers by age-group.
Most races do not give every finisher a finisher's medal. Make sure your first time 5K runner has an unforgettable finish with a special medal for first time runners. 
Make a lasting memory with your child, spouse or a friend!
Order today to make sure your runner has a finisher's medal to remember their special day with you!
Available in time for January races including those New Year's Day races that everyone loves. What better way to start off the New Year than running a 5K with someone just starting out!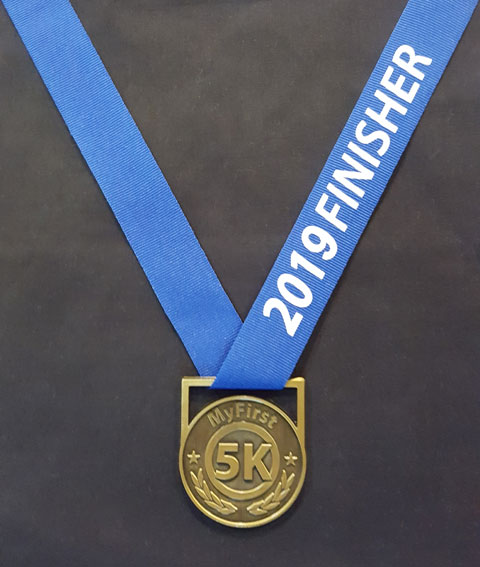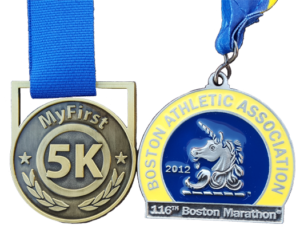 The My First 5K medal was inspired by a first time runner who did not get a medal.
I wanted to make sure that every parent had the opportunity to get a medal for their child's first race.
Finishing a 5K isn't for everyone and a finisher's medal isn't a participation award. It's a medal of honor that any runner can show proudly.
The My First 5K medal is similar in size to marathon medals, even the most famous finisher's medal in the world!
Show your runner how proud of them you are with a special medal for first time 5K runners.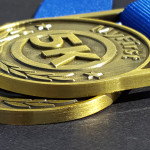 Click on any image or headline on this page.
Shipping is $3.00 in the USA including Alaska and Hawaii, and $2.00 within New England. Expedited shipping is available.
Each medal ships with a decorative bib sticker as seen below.
Omni Running does NOT offer engraving services.
Some races offer the My First 5K medal on their registration form. If you don't see it listed, ask for it by name –  the My First 5K medal. 
Showing all 6 results