My First 5K Medal
Every runner looks for their First 5K medal at the end of their first 5K race.
Most 5K races provide medals for the top three men and women finishers. 
Many 5K races also provide awards to the top three age-group finishers.
Make sure your child or friend receives a finisher's medal at their First 5K!
Don't miss the opportunity to make a lasting memory. Your child will run their First 5K once.
Make sure your runner has a finisher's medal to remember their special day with you!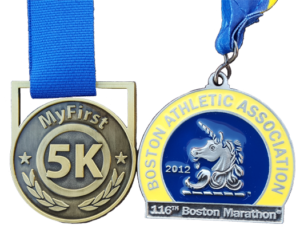 The My First 5K medal was inspired by a first time runner I know who did not get a medal.
I wanted to make sure that every parent had the option to get a medal for their child's first race.
Finishing a first 5K isn't easy for anyone, young or old. While we often hear about participation awards, finishing a 5K is about more than showing up!
My First 5K medals are similar in size to marathon medals, even the most famous finisher's medal in the world!
Show your runner how proud of them you are with a special medal made only for first time 5K runners.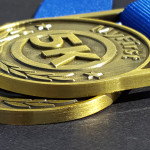 Some races offer the My First 5K medal on their registration form. If you don't see it listed, ask if they offer the My First 5K medal. 
You can order one here by clicking on any image or headline on this page.
We ship anywhere in the continental US for $3.00 and within New England for $2.00. Expedited shipping is available.
Showing all 5 results