Medal Display Frames
Looking to frame your favorite medal?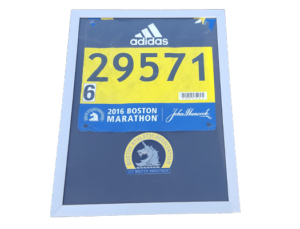 We use a unique inlay technique to create medal display frames to display your medals.
Our Medal Display Frame option allows you to choose a design from our collection.
Place your order for one of these frames and we will ship it to you within 24 hours.
We are constantly adding new races. These designs are currently available.
Baystate Marathon – 2009, 2011, 2013, 2014
Hartford Marathon – 2012
Maine Marathon – 2010
Smuttynose Marathon – 2013
Offered in gold or silver color 10×13″ metal frames. Select Medal Display Frame and choose your race and frame color at checkout.    All frames are $29.95.
We have most of the recent Boston Marathon Frame designs in stock.
2003
2005
2006
2009
2012
2013
2014
2015
2016
Select Boston Marathon and choose your race and frame color at checkout. All Boston Marathon single medal frames are $29.95.
Have a race medal not in our collection?
With Custom Cuts we can frame almost any medal in one of our standard 10×13″ metal frames. A single medal frame is still only $29.95, even with a custom cut.
Custom designs do require that you send your medal to us in order to make the perfect cut.
Add Conservation glass to any 10×13″ frame for $10.00. Protect your ribbon, bib or photos from fading over time.
Need to display several medals? Select Custom Cut Multi Medal to see our options to mount several medals in a single frame. We can frame almost any set of medals in a variety of frame sizes.
For inquiries or questions:
[contact-form to='info@omnirunning.com' subject='Display Frame inquiries '][contact-field label='Name' type='name'/][contact-field label='Email' type='email' required='1'/][contact-field label='Question/request' type='text' required='1'/][/contact-form]
Showing all 7 results