Omni Running Shop
We offer two items in our shop for runners: 
Medal Display Frames and My First 5K medals.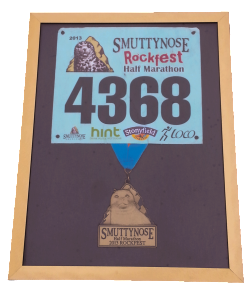 Every runner has at least one medal from a race. It may be from your first race or the only race you ran that gave out a medal.
Often, medals end up in a desk drawer or box. Sometimes they get lost or damaged.
For about the price of a 5K registration, we can frame just about any race medal and bib in a great looking frame.
Click image for details.
For most runners, the 5K is their first race.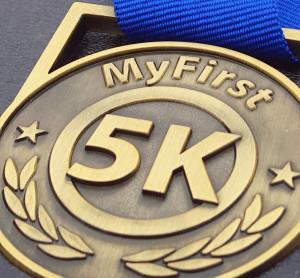 Most 5K races stopped providing a finisher's medal years ago. This means most first time 5K runners go home without.
At almost every 5K, I see parents running with their children and couples running together for the first time. It bothered me that they didn't even have an option to get a medal.
After a lot of research and phone calls, I came up with the My First 5K medal. I didn't want to sell medals out of a catalog, I wanted to offer something unique and special. 
The My First 5K medal is similar in weight and size to a marathon medal. It clunks when you put in down on the table. It's something I am proud to offer to you and it is a medal you will be proud to give to your child, friend or spouse.
We help non-profits with fundraising
Are you managing a 5K race for your non-profit? My First 5K Medals are a great way to increase fundraising.
We also offer discounts for Walk to Run programs, Scout Troops, Y running programs and other groups.
Inquire about special pricing for your 5k race or running group.

info@omnirunning.com
My First 5K medals and frames make a great gift for the runner in your life who has worked so hard to run their First 5K.