February is three-quarters over and here in the GBA we couldn't be happier. Regardless of the weather, the race must go on.
Here are a few February 5Ks to consider
This race starts at 7PM on Friday February 20th. Tonight. Not cold enough for you during the day? Well try this race out after the sun goes down.
Newport's first and only nighttime race will be held during Winterfest and will benefit the Newport Public Education Foundation. On-site registration is $35.00
Shirts for the first 750 runners who register, 532 hearty souls ran this race last year.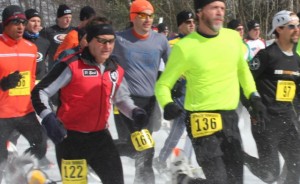 How about a snow shoe race on February 22nd in Waterville, Maine?
Register online for this 5K race for only $15.00.
Come properly equipped and ready for harsh conditions. It may be a nice day, but it is February in Maine. Starting time is 10AM.
This series is a no frills $1.00 donation weekly 5K, with the last running this Saturday the 21st at 8AM, Shahp! Only the Governor himself has ever cancelled this race.
This Greater Lowell Road Runners sponsored race takes place at Tewksbury High School, directions and course map are HERE.
That's about it for February 5Ks. Join my mailing list and get the complete listing of 5Ks across the USA for 2015. You won't want to miss it!
Run well my Friends,
Andy